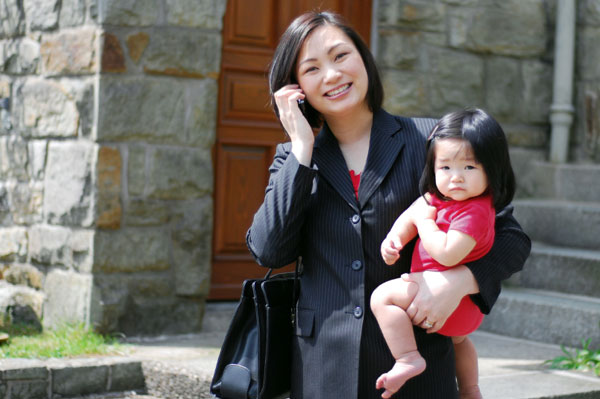 Tonight we continued our series on maternity and work, focusing on mothers who work outside of the home. According to the Bureau of Labor Statistics, the 2012 labor force participation rate for all mothers with children under the age of 18 is just over 70 percent. Ryan and Cheryl joined guests and working mothers Rae Mulligan and Bonnie Silvestri to dig a little deeper into what the experience of being a working mother is really like. Rae Mulligan grew up in Sarasota, Florida and graduated from the University of South Florida with a degree in Women's Studies and Sociology. Rae has worked at Northern Trust as the Food and Beverage manager for over 14 years and is currently working on a Master's Degree in Hospitality Management. Strongly committed to family, equality and the community, Rae is a Committee member of several different non-profits including Equality Florida, Planned Parenthood and the Glasser/Schoenbaum Human Services Center. She currently lives in Sarasota with her husband, Mark and 2 1/2 year old daughter Piper.

Bonnie is a faculty member at University of South Florida Sarasota-Manatee in the College of Arts and Sciences, where since fall 2007, she has taught Constitutional Law, Women in Law, and Special Topics courses, including a service learning course called "Ending Homelessness: How Can We Work Toward Social Change?" Additionally, she is the advisor to the Social Justice Initiative at USFSM, which engages students in community service projects to raise social consciousness. Previously, Bonnie practiced law in New York, where she served as the first executive director of the Judicial Campaign Ethics Center of the New York State Unified Court. Today she lives in Sarasota, Florida with her husband Mike and daughter Daphne.
Rae and Bonnie each shared with us how they became working mothers, and discussed the experiences of arranging maternity leave, going back to work, being newly postpartum in the workplace, and organizing child care. They each shared with us the complex range of emotions they experiences along their journey, including joy, guilt, pride, and stress. We delved into examining how support for new mothers in the workplace can have a deep impact on families success and happiness, and Rae and Bonnie discussed ways in which they had been support, as well as places where they could have used more support.
We closed our discussion by looking at the impact that gender has on how outsiders view family member's work choice. Ryan and Cheryl discussed the idea of the "do no wrong" father, whose choices are praised as heroic whether he stay at home or provide for the family financially. On the other hand, we noted that women seems to be able to "do no right" facing scrutiny whether they stay at home or return to paid labor. We also discussed strides which have been made as a whole to create more gender equity in families, as well as the importance of equity in a family where both parents are working.
TONIGHT'S TIP: End right by starting right—keeping all of your prenatal appointments helps ensure a healthier ending.